History of the Music
History of the Music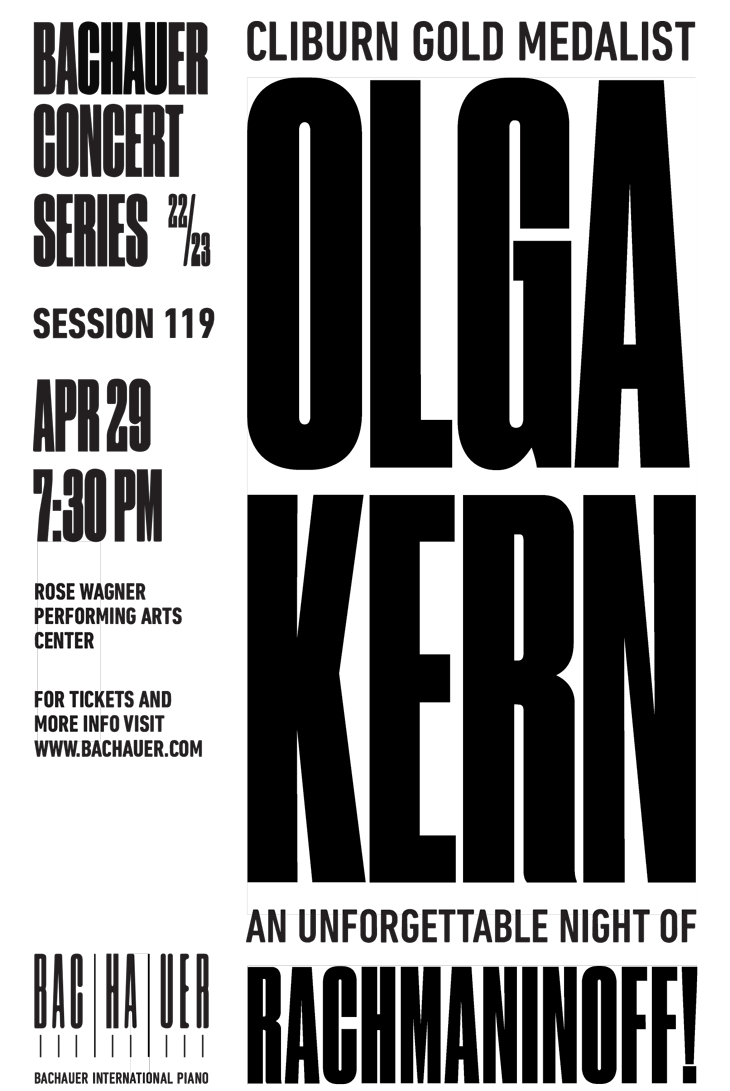 ---
---
By Jeff Counts
Ringelspiel
Duration: 15 minutes in five sections.
THE COMPOSER – ANA SOKOLOVIĆ (b. 1968) – According to her biography, Ana Sokolović's music is "coloured with playful images and inspired by differing artistic disciplines." And no wonder. Born in Belgrade and based in Montreal, Ana began her muti-faceted creative life (at four years of age) in ballet before turning to music and theater. Her deep fascination "with various forms of artistic expression informs her work" to this day, and it frequently manifests itself in collaborative projects with choreographers, film directors and playwrights. As might be expected for a composer so committed to stage works, Ana is also an award-winning opera composer whose music is performed often throughout Europe and North America.
THE HISTORY –"I like to play" Ana has been heard to say in interviews, "not to play music necessarily, but to play as a child." Nearly everything she writes is inspired by non-musical concepts and ideas and representing those seemingly untranslatable abstractions in musical language is a challenge she looks forward to with each project. For her part, Ana is never happier than when an audience member tells her that they clearly understood her intentions. "This is my paycheck!", she admits with a smile. Written for the child in all of us, the concert work Ringelspiel was commissioned and premiered by the National Arts Center Orchestra in Ottawa in 2013. It was named after the Austrian-German word for merry-go-round and the brief publisher's note for the piece states, "To most of us, a merry-go-round brings back memories of childhood and conjures up emotional responses of nostalgia and naïveté. So too does it for this composer. In addition, Sokolović has derived inspiration from the mechanical aspects of a merry-go-round – its simplicity of movement, its circular motion, and its status as an icon of the machine age." The five connected sections of Ringelspiel have clever titles (mechanical; heavy-footed; merry-go-round ballerina; mechanical; broken merry-go-round) that evoke different ways of experiencing the beloved carnival attraction. It's a journey that takes the listener from the wind-up of the apparatus itself through a few symbolic states of technological and spiritual awareness. Imagine feeling off-balance amidst the noisy clockwork earnestness of such a complicated machine or sensing a spooky music-box presence on the ride with you and you are beginning to get the idea. Eventually, of course, Ringelspiel leaves us in a place of wistful sadness when everything finally starts to break down.
THE WORLD – Elsewhere in 2013, anti-government protests raged in Turkey, the Boston Marathon bombings occurred in America, same-sex marriage was legalized in France and Nelson Mandela died in Johannesburg.
THE CONNECTION – These performances represent the Utah Symphony premiere of Ana Sokolović's Ringelspiel.
Concerto for Violin in G minor, op. 26
Duration: 25 minutes in three movements.
THE COMPOSER – MAX BRUCH (1838–1920) – Though he actively composed throughout his life, amassing a respectable catalogue that included symphonies, operas, songs and chamber works, Bruch's name is invoked sporadically and insufficiently these days. He was a child prodigy, a renowned educator and a highly skilled conductor. From 1878 to 1890, he held podium posts in Berlin, Liverpool and Breslau, after which he settled for good in Berlin as a professor at the Hochschule. Respighi and Vaughan Williams were among Bruch's students there but when he passed away in 1920, the world had almost completely passed him by.
THE HISTORY – Had it not been for his friendships with the violin legends of his day (Ferdinand David, Joseph Joachim, Pablo de Sarasate) and the handful of works he composed for their instrument, Bruch's music might well have been entirely forgotten. He was an avowed devotee of Mendelssohn and Schumann and an equally passionate opponent of Wagner and Liszt. It was an unpopular position to maintain as the new century approached and Bruch's old-fashioned sensibilities did a disservice to his reputation and legacy. The penalty would have been fatal if not for works like the Scottish Fantasy of 1880 and the 1st Violin Concerto. The concerto was composed in 1866, revised in 1868 and built upon material that dated back to 1857. Bruch had written his first symphony at 14 and premiered his first opera when he was barely 20. Also kicking around in his fertile brain during those ambitious teen years were sketches for a G minor violin concerto. It would be nearly a decade before those early jottings become a cohesive whole and Bruch, then 28, conducted the 1866 premiere performance with Otto von Königslöw as soloist in Cologne. He wasted no time congratulating himself and began revising the concerto immediately. The choice to seek out the advice of Joseph Joachim was smart, and Bruch benefitted from the insightful ear of the grand master. Joachim had, after all, given similar guidance to Beethoven and Mendelssohn and would later do so for Brahms. The first matter the (slightly) older musician was able to set to rest was the issue of the work's structure. The freely informal first movement worried Bruch, who feared ridicule if he continued to call the piece a "Concerto". Joachim settled that fear and talked the composer out of re-naming it a "Fantasy". Joachim himself premiered the new version, our version, in 1868 under Bruch's baton and held the piece close throughout his life, calling it the "richest and most seductive" of the four great Germanic concerti he helped bring about.
THE WORLD – Elsewhere in 1868, Liechtenstein disbanded her army and declared permanent neutrality in 1868, Siam's King Rama IV died, Cuba's ten-year war with Spain began and Fyodor Dostoyevsky's The Idiot was published.
THE CONNECTION – Bruch's 1st Violin Concerto was performed most recently in 2019 under the baton of Music Director Thierry Fischer. James Ehnes was soloist
Symphony No. 5 in F Major, op. 76
Duration: 39 minutes in four movements.
THE COMPOSER – ANTONÍN DVOŘÁK (1841–1904) – Though he was still three years away from international recognition as a composer, 1875 was highly productive for Dvořák and arguably the most prolific twelve-month stretch of his career. In and around his poorly paid duties as organist of Prague's Church of St. Vojtech, Dvořák managed to crank out an opera (Vanda), a symphony, a piano trio, a piano quartet, a string quintet and his first truly evergreen success, the Serenade for Strings. He had, just that February, received the first of five of his annual "starving artist" grants from the Austrian government, thanks to the efforts of Johannes Brahms and the eminent music critic Eduard Hanslick.
THE HISTORY – The symphony from that robust list of 1875 accomplishments was No. 5 and the publication history of this work is puzzling, and illustrative. Dvořák gave it an Op. 24 designation upon completion, but it was not published until 1888. By that time the composer was a star. His publisher (Simrock), anxious to cash in by presenting it as current and "mature" music from one of its favorite show ponies, called it Op. 76. And if that weren't confusing enough, Simrock also chose to name the symphony No. 3, since only two of Dvořák's previous four were publicly available at the time. Scholars in the 20th century would later put all this nonsense to rest, but machinations such as these were not at all uncommon in Dvořák's day. He indulged in them himself, it has been written, by assigning lower opus rankings to pieces he wanted to publish outside the bounds of his Simrock contract. Number games were good for the goose and the gander, it seemed. Symphony No. 5 was written in a short five weeks during the summer of 1875, and it was a huge departure, in terms of style and mastery, from the 4th Symphony of 1874. Much more than a year seems to have elapsed between the two pieces. No. 4 was full of gallant pretense and other Wagner derivations but, by the time No. 5 was set to paper, Dvořák had begun to settle into the assured Bohemian pastoralism that would define his voice for the rest of his life. The confidence apparent in Symphony No. 5 feels not borrowed, but earned, and the advances Dvořák made in structural clarity, thematic cohesion and tonal invention marked the beginning of a new personal era for the composer. Perhaps Simrock's financially motivated instinct to place the work in Dvořák's established canon managed to tell a basic, albeit accidental, truth about it. Symphony No. 5 belongs there, among the masterpieces that made him so famous. Hans von Bulow thought so. When the work was dedicated to him just before publication, he told Dvořák the honor was higher "than any grand cross from any prince."
THE WORLD – Elsewhere in 1875, the first indoor hockey game was played in Montreal, the first Kentucky Derby occurred in the United States, Tonga became a constitutional monarchy and a British officer invented the pool variant known as Snooker while stationed in India.
THE CONNECTION – Dvorak's 5th was last performed by Utah Symphony as part of its 2005 European Tour. Keith Lockhart conducted.
---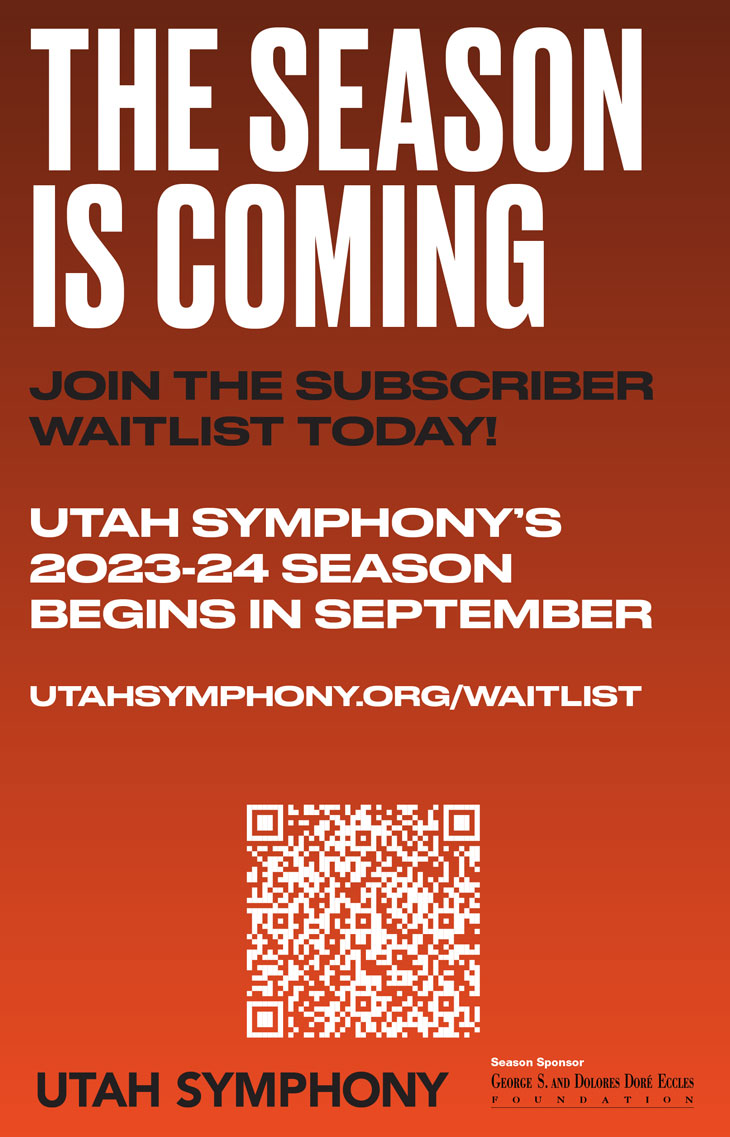 ---