History of the Music
History of the Music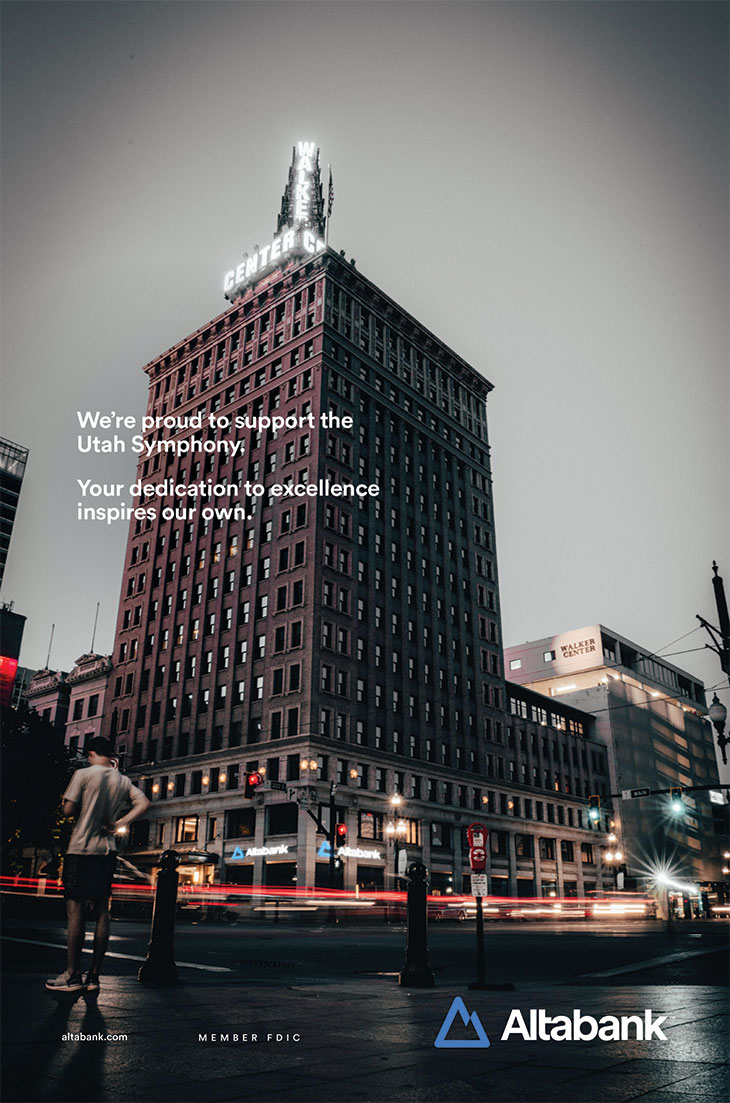 ---
By Jeff Counts
Overture to La forza del destino
Duration: 8 minutes.
THE COMPOSER – GIUSEPPE VERDI (1813-1901) – Verdi's fame after 1855 was a truly international thing, universal enough that he was obliged to conform his writing style to match other, non-Italian, traditions in order to make good on big commission opportunities. He composed extravagant works for French opera houses in the late 1850s and even represented Italy at the London Exhibition in 1862. Though his voice was ever his own, Verdi's gift for storytelling was enriched in particular by his forays into the world of Parisian spectacle.
THE HISTORY – La forza del destino was the result of yet another commission from afar, this time Russia. His previous effort Un ballo in maschera had run afoul of censors in Naples, leading to production delays, broken contracts, lawsuits and much frustration for the composer. Exhausted and temporarily disillusioned, Verdi turned down the next several offers he received. The Imperial Theatre of Saint Petersburg promised him a whopping 60,000 francs plus expenses, which would have pulled any composer out of a bad mood, but Verdi likely also saw an opportunity, far away from the source of the Un ballo irritations, to create something more intricate and expansive than anything he had done before. The libretto was developed by Francesco Maria Piave, based on a Spanish drama Don Álvaro o la fuerza del sino from 1835. The story is highly mystifying, even by operatic standards, complete with assumed identities, a sibling murder plot, casual classism and other cultural intolerances of the day. There are really only three main characters to contend with, but they are surrounded by a chorus of monks, soldiers and gypsies, and with so much story stuffed into this opera, it requires good attention to keep everything in order. After a delay of its own, the premiere of La forza del destino went well enough to interest other European capitals in subsequent productions. But Verdi wasn't happy with it. He worked hard to revise the score over the next several years and had a new version ready in time for an important Teatro alla Scala re-launch in 1869. Among the most significant changes was the replacement of the original prelude with a fully-fledged overture. Like so many of the best opera curtain raisers, it is a complex world in miniature, with rich thematic allusions and dramatic premonitions throughout.
THE WORLD – Elsewhere in 1862, The Franco-Mexican War began, Otto von Bismarck became Prime Minister of Prussia, on his way to the Chancellorship of the German Empire and Julia Ward Howe published The Battle Hymn of the Republic .
THE CONNECTION – The most recent Utah Symphony performance of the La forza del destino Overture was in September 2017.
Suite del balletto La Strada
Duration: 30 minutes in seven sections.
THE COMPOSER – NINO ROTA (1911-1979) – Though he wrote extensively for concert halls and opera houses during his productive professional life, Nino Rota will always be remembered first for his contributions to cinema. It's the abiding curse, if they (or we) choose to see it as such, of a certain few mid-century European artists, including Miklós Rózsa and Erich Wolfgang Korngold. Even Stravinsky tried his hand at film scoring, though it would never have defined him in the same way if he had been successful at it. For Rota, there was no question. The success confirmed the legacy.
THE HISTORY – Rota already had several excellent movie scores to his name when he began his long and important collaborative relationship with legendary director Federico Fellini in 1952. They would continue their partnership for decades. The two men differed on the role of music in cinema, approaching each other often from the extreme poles of a visual/aural perspective contiuum. But they were a devoted team. "The most precious collaborator I ever had…" Fellini once said, "…was Nino Rota." The film La strada (The Road) dates from 1954. It is the heartbreaking story of a girl (played by Fellini's wife Giuletta Masina) who is sold to a traveling circus strongman (Anthony Quinn) and must endure his callous brutality to somehow maintain her care-free spirit. It was a big success for Fellini and won the first ever Oscar in the Foreign Language Film category. Rota was not nominated for his score, but it was very well received and is still remembered as one of his best. He made a ballet based on the music and subject matter of the film in 1966. The one-act theatrical version of the tale was commissioned by the Teatro alla Scala and was highly successful in its own right, earning numerous revivals in the years that followed. On full display in this music is Rota's ability to match his serious classical training with a masterful instinct for popular charm. His natural feel for the balance required by a cinematic score between the reverent and the irreverent was what made him so valuable to Fellini, who sought the same perfect symmetry in all his visual creations.
THE WORLD – Elsewhere in 1966, Bill Russell became the NBA's first black coach, Guyana declared its independence from the United Kingdom, Indira Gandhi became Prime Minister of India, and the Star Trek television series premiered.
THE CONNECTION – These concerts mark the Masterworks Series debut of Rota's ballet music from La Strada .
Symphony No. 4 in E Minor, op. 98
Duration: 39 minutes in four movements.
THE COMPOSER – JOHANNES BRAHMS (1833-1897). The mid-1880s saw Brahms at the absolute height of his career and reputation. The fruitful partnership with Hans von Bülow and his Meiningen Orchestra would begin and grow during these years. Many younger composing contemporaries agreed with von Bülow's placement of Brahms in the pantheon with Bach and Beethoven. Strauss, for example, was a recent but enthusiastic convert. Mahler never needed any convincing. With so much provocative experimentation going on at the time, only fans of Liszt and Wagner seemed unwilling to embrace Brahms' relative conservativism.
THE HISTORY – Brahms probably found it hard to avoid attention in those years, what with his celebrity so assured by sustained success. But his summer practice of composing in solitude somehow held, and over the warm months of 1884 and 1885 he put his 4th and final symphony to paper. It's a tragic work, one that stands out significantly from the two that precede it. It's also a perfect work, one that would have brooked no successor itself. It had to be the last. Brahms might not have set out on a summative path with Symphony No. 4, but there can be no doubt that he ended up on one. North of 50 and bent towards melancholy at the best of times, which these arguably were, his thoughts were on his own mortality and contemplations about what might come next. He was reading Sophocles. He was making beneficiary arrangements for his new score should "the most human thing happen" to him. In other words, he was being Brahms, just more now than ever. In this context, it is fascinating to ponder his choice of a bass line from Bach's Cantata No. 150 ("Lord, I Long to be Near You") to seed the finale of the 4th Symphony. Brahms was no church man, so the reference to Bach must have been about something more than peering over the edge into the next world. He was a life-long student of music history and often looked to Bach for solace and inspiration. The use of the old master's music might well have been a shout into that coming void, a bit of ancient magic thrown up against the expressionist excess he feared might soon overrun his beloved art form. As much a manifesto as a piece of music, this symphony represents the ultimate distillation of his thoughts on form, and on life. Not one single note is out of place.
THE WORLD – Elsewhere in 1885, Mark Twain's Adventures of Huckleberry Finn were published, The Mikado premiered in London and, also in Germany, Karl Benz received a patent for his Motorwagen, a three-wheeled automobile capable of 10 miles per hour speed.
THE CONNECTION – Utah Symphony has presented Symphony No. 4 many times on the Masterworks Series. The most recent performances were in February 2017 with Thierry Fischer.
---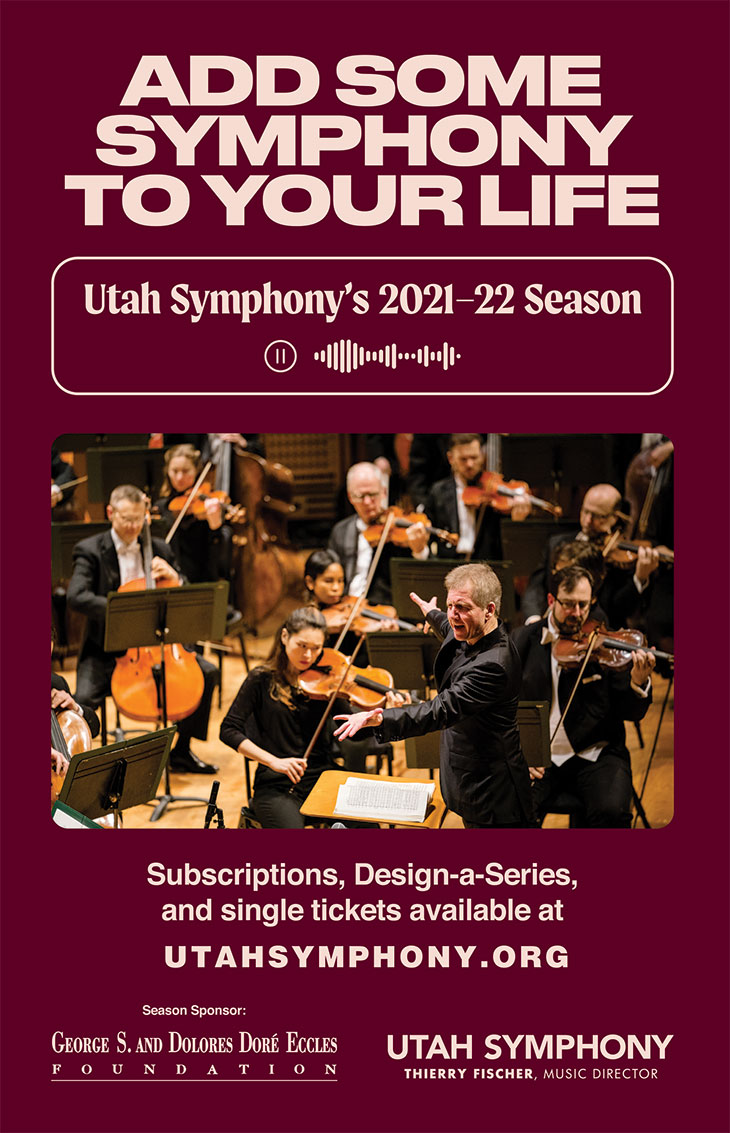 ---